GET YOUR DARIN MORGAN AIST KIT FROM SPEIER RACING HEADS!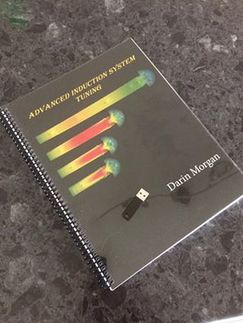 ​
AIST (Advanced Induction System Tuning) video seminar kits.
​
The Advanced Induction System Tuning seminar consists of,
- 14 hours of video coupled with 237 slides.
- CFD software so YOU can play with the models.
- Equation list (Every equation you will probably ever need).
- Spread sheets to quickly quantify CSA and other variables.
- Engine software to quantify piston design, deck height, rod length and many other variables.

The $995.00 cost of this material is extremely small compared to the massive amount of information provided. Now you can see how an induction and exhaust system really works!

Call Chad at 785-623-0963 for more info.

Please allow two weeks for delivery.
Information on personally attending an AIST (Advanced Induction System Tuning) or the AEMA (Advanced Engine machining and assembly) seminar, please refer to dates below..

Each day will start at 8:00am and end at 5:00 PM
(1) Reher Morrison AIST seminar at our facility on Oct 7th 8th
(2) Doha Qatar AIST Nov 4th and 5th
(4) Australia AIST Feb 10th and 11th
If you have not booked your seat please do so ASAP! We have limited room and close registration two months before the seminars. After its closed there will be no exceptions. Many people failed to sign up early enough last year and missed out. Don't wait! This gives us time to book the proper sized venue for the amount of people signed up. If you want to get in last minute, it's not going to happen.
-First review from the new 2017 AIST materials from

Richard Katterjohn


I have been porting and flowing for 35 + years, I have learned from the best ,Lee Sheppard, Bill Staley ,Ron Winterhoff, Jeff Jones , Tim Hogan, Jim Bell, to name a few, but your program is a whole new level for me! Regards, To my fellow practitioners of airflow science, this AIST material is the most comprehensive, well documented, clearly illustrated, work I have seen! The audio and video presentations, along with the workbook is a bargain at twice the price! I especially liked the diagnosis of common flow problems, and insights into proper shapes and sizes to avoid these problems! Well done! Sir!
Testimonials from past AIST seminars
For anyone that is in the engine building business, or wants to do cylinder head work this class is invaluable. The amount of information that Darin gives you is mind numbing and will take most people weeks if not months to decipher (after re-reading the text, and listening to your tapes if you choose to tape it). The biggest benefit is you get Darin's real world experience and can go over specifics; he not only gives you the answers but shows you how to find them on your own. Having been to numerous conferences and seminars over the years this is by far one of the best. Most presenters only give you a few hours to go over the content. Darin is there for a full two days. You also get to interact with some really great minds who are attending as well.
Applying just the basic principles and guidelines you passed on to me I have been able to get solid gains in not only peak HP but really stout torque gains and much wider power spread than anything I ever achieved before. One of the engines I was working on at the time we spoke has gone on to set a new class record at Bonneville, and one of my recent road racing engines is as fast as any ever in the class but has a power band a good 2,000rpm wider than anyone has ever heard of. Thanks again.
Even though I'm not a cylinder head guy, or head porter I found it extremely entertaining, and educational. You're method of teaching is very similar to what I enjoy, free flowing where you work from an outline and go with it.
​
I am writing to thank you for putting on these classes. I started porting heads last year and to say I was lost is an understatement. I have searched all over for books and articles to help me find my way in this difficult pursuit. I did find some books but they were not anything worth mentioning. Usually these books and articles just skim the surface never really teaching the "meat" of the subject. After two days with you I can safely say that I UNDERSTAND! It all makes sense! Now I can actually start learning instead of fumbling around in the dark.. .
I was extremely impressed with your Presentation at the Rose Holman Institute of Technology. When I found out you had a more extensive class I booked a seat immediately. Your class was even more impressive! As an engine builder, engineer and avid speed freak I often attend presentations and seminars. Yours was very well put together and your teaching methods make it easy to follow and absorb. I would say that out of the hundreds of seminars I have attended over the last twenty years yours was the best by a long shot!
I first met you in the fall 2007 at Reher-Morrison Racing Engine School and could not have been more impressed. Your presentation at the University of Northwestern Ohio was equally as impressive. I realized that I was in the wrong room right away, I do not have the experience level needed to apply or use the bulk of the information you presented. I am not used to walking into a room and feeling so humbled when anything automotive is the topic. Now this is not to say that I don't realize my limitations. I just seldom feel like the least educated and under informed person in the class room. You are one of the most polite soft spoken people I have ever had the pleasure of meeting in this industry. You always seem to enjoy sharing your knowledge as opposed to hoarding every little detail you have learned. That in my opinion makes you one of the most generous people in racing.
Thank you, thank you, and thank you! Finally, there is someone to teach what no one else talks about. When you said that my learning curve would take a big leap forward, I was skeptical. You were right and I am now a skeptic no more.
I have seen many presentations at places like PRI, the AETC and many other venues. You were, by far, the best I have ever seen. You actually made sense of a topic that has perplexed me for many years. It's a very complex subject matter and you seem to be able to put it into context and make people understand. Keep up the good work.
After attending Darin's class.........well, if I knew what he was going to disclose/ teach before I signed up, I would have paid $5,000.00 for the course. Darin poured his heart out about real world race engine development & technology on some of the most sought after engines in the racing industry today. Not just book knowledge, actual data, formulas and results from years of testing and claiming world records and world championships in almost every class of racing. The class was priceless, the records Darin holds are proof of his teaching, and his down to earth logical approach was the most easiest of conditions to learn under. Thanks Darin for all your help.

I went home and took a cylinder head intake port that I have been working on for weeks. I have been through no less than three other ports trying to get the thing to flow. I now understand how I was going about things all wrong. I used the calculations and ratios you gave us. I did the short side exactly the way you described and the port worked! The first shot it worked better than the three previous attempts. It now flows 18cfm more and its smaller and faster. I can't thank you enough.
Darin, your cylinder head / induction class was very informative. I learned a lot and was able to confirm a lot of air flow info that I had picked up over the last few Years.
Great job!
First let me say I've known Darin for many years. Not only is his knowledge first class, but so is Darin the person. He is one of the very few people I've known that would bend over backwards for you! His passion and thirst for learning, I've never seen duplicated.
Now for the class. Whether you're a seasoned Professional or a novice beginner, you must attend. Darin opens your eyes on the PROPER way of designing an induction system. He doesn't just give you "formulas" he gives you real World experience and knowledge. The knowledge he so willingly shares with you. This type of info would take you YEARS to achieve! At any cost for the class, its priceless! After the class, Darin still isn't done. If you have questions, he will answer them. You get home, you have questions, and he will answer them. What Darin has provided for our sport is priceless. Do yourself a favor and go, it's an experience I will use every day in my business.